ESTATE AUCTION
FOR NICHOLAS D. WILSON & ROYAL JOHNSON
LOCATION: 109 S M Rd, Harvard, NE 68944
Saturday, Sept 25, 2021 * 9:00 AM
COMMENTS: Large offering of Tools and Shop Equipment from these two gentleman's estates,
all items are very clean and have been well cared for.  
Lunch Stand-Winfields's Sweets & Eats
Tools: DeWalt DW368 Cored Skill saw; Sunex SAE 1/2″ impact Socket Set Sunex Metric 1/2″ impact Socket Set; DeWalt DWS779 Miter Saw; 12″ Roberts Laminate Flooring Cutter; DeWalt DWMT76628 Socket Set; Craftsman 12″ Drill Press w/laser; Shop Vac 6.5HP; Heavy duty series Masterforce collapsible saw horses (pair); Drywall Square and 4 foot ruler; DeWalt DWE7491 Table saw; 2) Four foot levels; 2 Step Plastic step stools; Floorcraft 7″ wet saw; 2 foot wood clamps; Irwin Quick Grip 1 42″; Irwin Quick Grip 2 30″; Stihl BG50 Leaf Blower; Harper Hand Truck Keller 6′ step ladder; Duralast 5000# Floor jack; Duralast Mechanics Creeper; Schumacher SE420 Battery Charger; Hobart Handler 140 Welder w/CO2 bottle; Mantis manual; Garden Tiller; Luminar Work Light; Powerlight Work Light; MultiPro Aluminum Folding Ladder 50″; Stanley 18″ Bolt Cutter; Fiskar Limb Lopper; Do It Best 8# sledge hammer; DeWalt carbon fiber Axe (new); Stihl FS45 grass Trimmer; Stihl 029 Super Chainsaw; Miscellaneous Extension cords; 1 edger Box containing Drywall and Paint tools; 4 prybars; Multimeter SPI 6 piece outside micrometer set Depth gauge (precision); Precision Square Calipers; Flexilla 25′ air hose; 3 plug adapter; Staplers and Staples Miscellaneous air nozzle;s Spring Assortment caulking gun; small pry bar; ToughBilt tool belt w/ 3 pouches; DeWalt DCD777 Drill; DeWalt DCF887 Impact;  2 AH batteries or tools; (3) Corded Work light DeWalt DCS367 Sawsall; DeWalt DCS391 Skillsaw; DeWalt DCS331 Sabersaw;  DeWalt Work light; DeWalt DCS355 Oscillating Multitool; DeWalt DCG4123 Grinder; DeWalt DCW 210 Orbital Palm Sander; DeWalt DCD996 1/2″ Drill; 5AH batteries; (3) DCB 115 Chargers; Bostich SB1664FN Air Nailer; DeWalt D28110 Corded Grinder; Bostitch SX1838K Air stapler W/staples; Irwin 6″ Quick Grip; (2) Irwin 12″ Quick Grip; (2) Irwin 18″ Quick Grip; (2) 11″ welding Clamps; (2) Craftsman Jack Stands; (2) Masterforce PEX crimping tools; DeWalt DWP611 Corded Router; Tool instruction books to go with certain tools; Miscellaneous nuts, bolts, screws, nails Stereo (old); subwoofer, Speakers, JS receiver; DeWalt D26441 Corded sander DeWalt; nut driver set; DeWalt 3/8″ torque wrench; Craftsman 1/2″ drive torque wrench; Craftsman SAE Wrench set (12 piece); Craftsman metric wrench set (12 piece); Craftsman tubing wrench set (5 piece); Prograde torx socket set (7 piece); Crescent rachet wrench (6 piece); Pipe wrenches 14″ and 18″; Autobraid air rachet cut-off tool IR air hammer; Central pneumatic air drill IR 1/2″; air impac;t air engraver;
More Tools: Metal Stamping kit (numbers and alphabet); Abrasive wheels Drill Vise Knife; sharpening stones; flood light Files, allen wrenches, Punches, Chisels, Pliers, Vise grips, Tin Snips Screw drivers Squares Putty knives Craftsman 1/2″, 3/8″, and 1/4″ socket sets (large set); Cresent Wrenches; (5) Hammers and other miscellaneous tools; Reddy Heater 30,000 BTU; Milwaukee Tools and bit index's; Hole saws; Poulan Pro 16" Chainsaw; Wrench and Socket Sets; Jumper Cables; Makita Cordless Equipment; Corner Sander; Dayton 2 Ton Arbor Press; Olympia 5" Bench Vice; Wilton 6" Bench Grinder; Soldering Gun; Commercial Glue and Glue Gun; Rotozip Revolution Spiral Saw; Fiberglass Ladders of Various sizes; Rolling Chest Tool Box; Misc. Tool Boxes; Ridgid Stand; Craftsman 15" Drill Press; Saw Horses; Work Stands; Porter Cable 18 Ga. Brad Nailer; Panel Carry Handles; Table Spool Sander
Gardening: Flexzilla Garden hose; Scotts Edgeguard Fertilizer Spreader; Truper Wheel Barrel (new); Miscellaneous Garden/Lawn tools, 1 post hole digger, 2 rakes, 1 hoe, 2 snow shovels, 4 shovels, I tile spade; 25′ Extension Cords; Propane Weed Burner
Ammo/Guns: Henderson Precision Gen 3 rifle case; cutter Hornady reloading press and accessories; Hornady automatic powder dispenser; Hornady precision calipers; Hoyt compound bow; Herters gun cleaning kit; Kleenbore gun cleaning kit; Misc. Gun cleaning kits
Welding: Welding Coat; Welding gloves; Welding pliers; ESAB Sentinel A50 welding helmet and accessories; heavy duty caster wheels; (2) MagTorch Propane Kits; MagTorch Kit (partial)
Household Items: Miscellaneous Beer Making Equipment; 5 garbage cans; Turkey Fryer; large Aluminum Cook Pot; Weber GS4 propane grill; Sinometer MS8268 digital multimeter; Grey Recliner Tan Recliner; 2) Bristol Chairs; Dresser; Bookshelf Desk and Chair Side tables for couch; (2) Plastic bedside tables; Glass Dishes Pots and Pans Silverware; Air Cooker; Vacuum Sealer; Hamilton Beach juice;r Kitchen glasses Fluke 117; Rival Delicatessen Fold-Away Food Slicer; Isolating Fans; Dust Pans; Trash Cans;
Auctioneers
Tom & Casey Cornwell, Clint Mickey
Dan Muirhead
RogerObermeier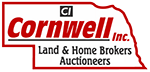 Auctioneers
Tom & Casey Cornwell, Clint Mickey
Dan Muirhead
RogerObermeier
SUBSCRIBE TO OUR TEXT ALERTS

Cornwell, Inc. occasionally sends out text notices of upcoming auctions. If you would like to receive these updates by text please submit your cell phone number.