Legal Description: Northeast Quarter (NE 1/4), Sec. 10, Township 10 North, Range 8 West Hamilton County
Aerial Map | Soils Map | Topography | Plat Map
Assessor

& FSA

Info

:

PLC YIELDS: CORN 187
126 BASE ACRES
2021 TAXES: $9781.14

WELL INFO:

PUMP RATE: 1200.00
WELL DEPTH: 189
WELL ID: G-003651
PUMP COLUMN DIAMETER: 8.00
About the Land: Located one mile from Highway 34, excellent access, south of Syngenta Seed Production Facility. Soil is primarily Hastings Silt Loam with little slope throughout the field. An 8 inch well provides ample water at approximately 1,200 gallons per minute. The farmland is irrigated with a 7 tower Valley Pivot and corner system, powered by an electric well. The northeast corner of the farm contains wildlife habitat with unbroken sod, that is irrigated by a corner
system.
Natural Resource District: Upper Big Blue
Price and Terms: Land will be sold on taxable acres. 10% down payment due on day of the sale. Closing to occur prior to December 23, 2022 with possession of the of the farm on March 15, 2023 or sooner. 
* Maps are for illustrative purposes only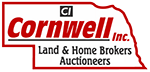 Auctioneers
Tom & Casey Cornwell, Clint Mickey
Dan Muirhead
RogerObermeier
SUBSCRIBE TO OUR TEXT ALERTS

Cornwell, Inc. occasionally sends out text notices of upcoming auctions. If you would like to receive these updates by text please submit your cell phone number.