Military Firearm Collection
Live & Online 2 Day Auction
Friday, April 7, 2023 | Doors open at 12:00pm | 2:00pm Catalogued Live & Online Items
Saturday, April 8, 2023| 9:00am Uncatalogued items |
11:00am Remaining Catalogued Live & Online Items
Hamilton County Fairgrounds * Farr Building *
310 A Street Aurora, NE 68818 * Lunch Stand * Indoor
Auctioneers Note: More items of this quality to follow in upcoming auctions!
Auction Notice: 10% Buyers Premium for Online Bidders. In House Bidders NO Buyers Premium.
A FEW PICTURES OF UNCATALOGUED ITEMS
LIST OF GUNS AVAILABLE, CLICK LINK FOR CATALOGUE
Beretta: Model 21 22LR; CAI M71 22LR; Navy Arms 1951E 9mm
Chinese: 177 Airgun AK Style; China/Navy Arms SKS "Farmer" 7.62x39mm; Chinese 75 Round AK Drum; Chinese Air Rifle; Chinese B-17 Training Poster; Chinese Blasting Machine; Chinese Claymore Mine-INERT; Chinese Cockpit Training Poster; Chinese Jet Model made from spent cases; Chinese Military Night Scope with case and manual; Chinese Mosquito Training/Identification Poster; Chinese SKS 26 Arsenal Code 7.62×39; Chinese SKS Gear Collection; Chinese SKS with Russian Stock 7.62×39; Chinese Tank Training Poster; Chinese Type 85 Night Vision Googles; Chinese/KFS SKS 7.62×39; Chinese/SWS Type 53 7.62x54r; Type 66 Chinese Claymore with Manual and Gernade
CZ: 27 Late War 32ACP; CZ/CAI VZ24 8mm; CZ52 Pistol 7.62×25
Czech: 7.62x54r Blanks; 7.62x54r Short range training ammo; Camo Set; Helmet and 3 ammo pouches; Officers Hat; Sniper Trench Periscope; vz58 Magazine Pouch; Czech/CAI M82 9mm Makarov; Czech/PAC VZ70 32 ACP
East German :40 Round AK magazines in pouch; 5.45×39 Magazine Set; AK 74 Magazine kit with magazines; AK 74 Magazine Set 4 mags; AK Magazines in Wrap; Bayonet Trainer; Duffel Bag, Soviet Tank top and holster; Shelter Half and Shovel; East Germany/CAI Makarov 9mm Makarov
Eygpt: Navy Arms Helwan 9mm
FEG/Romanian: M74 Pistol 32 ACP
Glock: 33 Round Magazines; 50 round Drum magazine; 50 Round Drum Magazines
HK Drum for MG3 Machine Gun; Magazine for MG3; magazine for MG3
Hungarian: AKM Magazine Set; AMD 65 Mag Set; AMD 65 Magazine Set; PKM assault Can 100 round; Hungary/GP Trading PA-63 9mm Mak
Italian: Replica 36 Cal 1851
Iver Johnson: Champion 20 Gauge; DA Revolver 32 S&W
Japanese: Type 38 RIfle 6.5mm Japanese; Last Ditch Japanese Type 99
Mauser: CAI BOLO 30 Mauser; Interarms M93 7mm
Norinco: Casco Type 59 Makarov 9mm Mak; IAC Chinese JW-14 22LR Training Rifle; Interarms ATD 22LR; NAC KKW 22LR Sniper Trainer
Polish: 5.45mm Mag Set; Poland 22LR Training Rifle; AK Magazine Set 7.62×39 Clear; AK Magazine Set with 3 30 round magazines; Demolition Kit with accessories and wire; NSP2 Night Scope; Training 177 Caliber air gun with case; Trench Periscope
Remington: 11-48 20 gauge; 17 20 gauge; 1903A3 Springfield 30-06; 31 20 Gauge; 31L 20 Gauge; 700 AAC-SD 308; 742 30-06 With Scope; 870 Police Magnum 12 gauge; 870 Riot Gun with Factory Stock 12Ga; Nylon 10C 22LR; Rolling Block 45-70
Romanian: 5.45mm AK Magazine Pouch; 7.62x54r Tracer Ammo RARE; 8mm Mauser Ammo Tin; IOR Sniper/trench periscope; Secret Police Magazine Set; CAI M44 Carbine 7.62x54r; Sealed Case of Romanian 8mm Mauser
Russia: M91-30 7.62x54r with bayonet; CAI 91/30 Rifle 7.62x54r; CAI M38 Mosin Carbine 7.62x54r; CAI M91 Mosin Nagant 7.62x54r; CAI Mosin Nagant 91-30 7.62x54r; CAI Nagant Revolver 7.62x38R; 5.45×39 Ammo Tin; 7.62×39 Ammo Tin; 7×40 Binoculars; 91/30 Mosin Nagant 7.62x54r; Ammo Tank; Russian Belt, Camo Pants, ammo pouch and Hat; Russian Capture K98 Century Import 8mm; Russian Chest RIg with lot of US pouches; Russian Helmet and Magazine Pouch with pack; Russian Ishvesk 91-30 7.62x54r; Russian Kit; Russian Rifle Case and ammo Pouch, with other kit; Russian Tin of 7.62x54r ammo; Russian Trench Periscope; Russian Vest for SVD Magazines; Russian/CAI 7.62X39; Russian/CAI Mosin Nagant 7.62x54r; MIlitary lot with backpack and Russian Hat
SIG: Mosquito -threaded barrel 22LR; P225 Made in Switzerland Rare 9mm; P226 Tactical 9mm; Sauer 22 Conversion for Sig P226
Smith & Wesson: 3000 12ga; 52-1 38 Special
South African: 5.56×45 Battle Pack; 5.56x45mm Battle Pack; 7.62×39 Battle Pack; 7.62×51 Nato 460 rounds; Battle Pack of 7.62×51
Soviet: 7.62x54r Tin; Air Force Hat; Amphibious Vehicle Model 1:20 Scale; CAI M44 Mosin 7.62x54r; Tin of Soviet 7.62x54r 440 Rounds
Spanish: 1893 Mauser 7×57
Swedish: Practice 9mm Ammo 432 rounds; Practice 9mm ammo Case; Short Range 9mm Ammo 864 Rounds
Swiss: Backpack with Kit; Schmidt Rubin 1889 7.5mm; CAI K31 7.5×55
Tokerov: Holster, Frog Pattern Jumpsuit, Grd. Pouch; Holster with Polish Pilot Jacket
Turkish 8mm Mauser Ammo 109 Rounds
US: 81mm Mortor Ammo Can; US Blasting Set with Claymore Mine; US issue TVS2 Nighscope for M2 50 Cal; US military Compression Sleeping Bag; US Military E Tool; USSR/CAI TOZ17 22LR; M16 Pouches and US military load bearing vest
Vietnamese: "Killer of Americans" Banner; Vietnamese and East German Banner Lot
Walther: 4×32 Scope with Lense Caps; G22 Rifle 22LR; P22 Green 22LR; Walther/PW Arms P5 9mm
Wards Westernfield Mod 36 20ga Pump
Winchester: 1897 Shotgun, cut down 12 Gauge; 62 22LR Pump Rifle; Model 12 20 Gauge; Model 12 20 Gauge; Model 1912 12ga
Yugo: M76 Magazine Pouch, Canteen, Polish Jacket; Yugo/CAI SKS 7.62×39; Yugo/PW Arms M70 32 ACP
Yugoslavia: IAI SKS M59/66 7.62×39; Yugoslavia/Ohio Ordnance SKS M59-66 7.62X39; Yugoslavian Gas Mask
Ammo & Other Firearms Related Items
10 military pouches and chest rig; 10x-East German 7.62×39 Short Range; 10x-East German Short Range 7.62×39 Ammo; 10x-Romanian 8mm Mauser ammo; 10x-South African 7.62×39 Ammo; 11x-7.62×39 SKS stripper clips with ammo; 11x-Russian 9mm Steel case; 12x-Magtech 20 gauge shotshells; 13X-Chinese 7.62×39 ammo; 13x-Soviet Vostok 22 LR ammo; 16x- 7.62x54r M39 Training ammo; 2 AC Unity AK Magazines; 2 Czech Shoulder Holsters; 2 Helmets and one NVA Pith Helmet; 2 Italian Replica Black Powder Revolvers; 2 Mosin Ammo Pouches and Camo Jumpsuit; 2 Polish Rubber Training Pistols; 2 Romanian 40 round AK Magazines; 2 Russian Holsters; 20x-Bulgarian FMJ surplus 7.62×39; 220 Rounds of 7.62x54r on Maxim Belt in Ammo Can; 25x-Wolf 223 Rem; 26x-Wolf 223 ammo Steel Case HP; 2x- 7.62×39 Tracer Ammo; 2x- Military sleeping mats; 2x-19 Round Magazines for Panzer Shotgun; 2x-20 round boxes of 303 British; 2x-22-250 Remington PPU Ammo; 2x-7.62x54r Ammo; 2x-9mm Largo Ammo; 2x-German Plasic 9mm Training ammo; 2x-German Style Ammo Cans; 2x-Hornady Frontier 30-06 ammo; 2x-Panzer arms 10 round magazines; 2x-Panzer Arms 12ga 10 round Magazines; 2x-Remington UMC 147 Grain Subsonic 9mm; 2x-Sig P226 20 Round Magazines; 2x-Sovet Tanker Helmets; 2x-Soviet Era Helmets; 2x-Swedish 9mm Training ammo Battle Packs; 3 AK Magazine pouches and Russian hat; 3 Soviet Tropical Hats; 300 Rounds of South African 5.56×45; 303 British Tracer Ammunition 47 Rounds; 320 Rounds of 7.62x54r ammo in wooden crate; 340 Rounds of Chinese 762X39; 3x-20 Round bags of 7.62x45mm; 3x-30 round AK Magazines; 3x-30 Round Boxes of Guatemalan 5.56; 3x-30 Round Boxes of Guatemalan 5.56 ammo; 3x-30 Round Boxes of Guatemalan 5.56 ammo; 3x-30 round boxes of Guatemalan 5.56x45mm; 3x-500 Round Bricks of 22 Super Colibri; 3x-500 round bricks of Russian Vostok Target Ammo; 3x-7.5 French Ammo Algerian Surplus; 3x-7mm Mauser 20 round boxes; 3x-Com Block Shovels; 3x-Glock 17 33 round magazines; 3x-South African Short Range 7.62 Nato; 3x-Swedish 9mm m39 ammo; 3X-Western 38 Special Super Match; 4 different Plastic AK Magazines; 4 Gas Masks with filters; 4 Mosin Nagant Pouches; 44 Special Ammo-partial; 4X- Bosnian 40 Round AK Magazines; 4X- Four boxes of Wolf 45 Auto Ammo; 4x-30 Round AK Mags; 4x-Bosnian 40 round AK Magazines; 4x-Bosnian AK Magazines; 4x-Bulgarian 40 round Ak Magazines; 4x-DP 28 Pan Magazines; 4x-Glock 9mm Magazines; 4x-Remington 124gr 9mm; 4X-South African Training 7.62×51; 5 First Aid Kits; 5.45×39 Bulgarian Ammo Tin; 5.56x45mm Russian Ammo in Mig 15 Mug; 51 Rounds of Surplus 5.56; 5x-Cold Weather MRE's; 5x-Frontier 45 Auto Hollow Point; 5x-Romanian 8mm Mauser ammo; 6.5×55 Swedish Mauser Ammo; 6.5x55mm Swedish Battle Pack; 6x-6.5x55mm Swedish Ammo; 6x-Czech 7.62x54r Blank Ammo; 6x-Czech 7.62x54r blanks; 6x-Czech 7.62x54r blanks; 6x-JMS 7.62x54r Ammo; 6x-Russian Match Grade 7.62x54R; 6x-South African 7.62 Nato Ammo; 7.62x54r US made 390 Rounds; 7x- Wolf 223 Ammo; 7X-Romanian 7.62×25 ammo; 8x Yugo 8mm ammo; 8x-7.62x38r Nagant Revolver Ammo; 8x-7.62x54r M39 Practice Ammo; 8x-South African 7.62×39; 8x-South African 7.62×51 Ammo; 9x-20 Boxes of Czech 7.62X54r; 9x-East German Blister Packs of 7.62×39; 9x-Norinco 7.62×25 Ammo; AK 47 Display Stand; AK 47 Rubber Duck Training Rifle; AK Display Stand; AK Pouch Belt; AK Training Kit; AKM Poster in Arabic; Albania/TGI SKS 7.62×39; Albanian SKS Ammo Pouch; Ammo Pouch, Haversack, and Hungarian Hat; AMT Hardballer Complete Slide, barrel, magazine; Assault Vest with US M9 Shoulder Holster; ATM/Century Milled AK Model 1960 7.62×39; Australian 7.62×51 Can; Australian 7.62×51 Can; Baikal Makarov Air Pistol; Battlepack of South African 7.62×39 FMJ; Vector Octics 6-24×50 30mm Tube Long Range Scope; VZ52 Rifle 7.62x45mm; Wise Lite Arms DP-28 7.62x54r; ZSU-23 Model; BMP 1 Model 1:35 Scale; Boots, 2 AK mag pouches and suspenders; Bosnian 30 Round AK Magazines; Box of Canteens; Box of Life Raft Rations; Browning Buck Mark 22LR; BSA/Fed Ord Enfield No 1 MK3 303 Brit; Bulgarian Sealed Tin of 7.62X54R Ammo; Bulgarian Tin of 7.62x54r Ammunition; Camo Jumpsuit, AK pouch and Tarp; Camoflage uniform lot with Soviet Flag; Can of 7.62 Nato Ammo; Century VZ2000 7.62×39; Charter Arms Bulldog 44 Special; Chiappa Charles Daly Honcho 12 gauge; Cimarron Plinkerton 22LR; Civil Defense Geiger Counter High School Kit; Colt 1903 32 ACP; Complete Set on Polish AK magazines; DAY #2 STARTS AT LOT #201 SAT APRIL 8th; DDI Knoxville KY Underfolder AK on a Hungarian Kit; Dutch Beaumont Rifle 1875 11MM; Finnish CAI M91 7.62x54R; Finnish/CAI M39 7.62x54R; French MAC Model 35S 7.65 French Long; Hege Waffen West Germany AP 66 9mm Browning Short; Helmet with misc. pouches; Ithaca NID 20GA; Tula 5.56×45 on Stripper clips; RWS Diana 45 Airgun 177 CAL; Sauer 38 7.65 32 ACP; Savage Model 12 Accu Trigger 22-250; Sears Mod 42-103 .22LR Weaver Scope Bolt Action; KCI Glock Magazines 17 rounds; Khyber Pass Enfield Counterfeit 303 Brit?; Leather Leg O Mutton Shotgun Case; Life Raft First Aid Kit; Luger RTB import Pistol 9mm East German; M9A1 Gas Mask; Marlin Camp Carbine 45ACP; MItchell Arms Citation II 22LR; Mossberg 590 Shockwave 12ga; Night Vision Monocular; Izhmash/RAA Saiga 12 12ga; Radom/TG P64 9mm Makarov; RARE 7.62x54r Russian SNIPER ammo Full Case; RARE East German Marked? M44 Mosin Nagant 7.62×54; RARE Yugoslavian M59 SKS 7.62×39; NSP 2 Com Block Night Scope; Olympic Arms Whitney Wolverine 22LR; Panzer Arms Bp-12 12 Gauge; Springfield Armory 1898 30-40 Krag; Stevens 235 12 Gauge; Steyr M1886 Kropachek Rifle 8mm; Surefire M952v-TN Flashlight; Tactical Mitigations 45 rd Drum Magazine for G22; Tasco Night Watch Binoculars; Thames Arms Revolver 32 S&W, Action not working; TNW M31 9mm Suomi; Reproduction Broomhandle Stock with Carrier; Simmons LaserMag Rangefinder
Uncatalogued Items Include
Vintage Powder Cans-Empty; Brass for Misc. calibers of Bullets; Assorted lead bullets; vintage animal traps; Military Spam Cans-Empty; Vintage ammo boxes- mostly 22 cal. As well as shotgun boxes; Outters blue rock thrower; Wooden Military Ammo boxes-5.45, 7.60- boxes only; Ammo belt boxes- metal cans; Cardboard shooting targets; Road Closed Range Firing Wooden Sign; Empty Primer Boxes; Military Helmets; Camo Jumper Suits; Military Gun Cases; Ammo Belts; Military pouches; Magazine pouches; Slings; Canteens; 25 MM Bradley Rounds; Large Variety of Military and related items.
All Purchasers of Firearms must have a Nebraska Firearms Purchase Permit or FFL.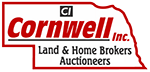 Auctioneers
Tom & Casey Cornwell, Clint Mickey
Dan Muirhead
RogerObermeier
SUBSCRIBE TO OUR TEXT ALERTS

Cornwell, Inc. occasionally sends out text notices of upcoming auctions. If you would like to receive these updates by text please submit your cell phone number.