Over 170 Firearms – Ammo – Mounts
FIREARMS AUCTION
LOCATION: Hamilton Co. Fairgrounds, 310 A Street, Aurora, Nebraska
Saturday, May 22, 2021
9:00 am * Ammo * Misc Items
10:00 am * On Catalogued Firearms & Mounts
Friday May 21, Preview: 6-8 pm

ESTATE COLLECTION: Consisting of 90 Plus Rifles 35 Plus Hand Guns – 30 Plus Shotguns
Winchesters – Colts – Remington – Marlin's – Ruger's – Hi Standards – Others
ALSO SELLING:Mounts, Ammunition, Military Ammo Boxes, Wooden Boxes, Knives, Saddle
ONLINE CATALOG FOR REFERENCE ONLY
(no online bidding)
A sampling of the early listing photos
| | |
| --- | --- |
| Lot # | Title |
| 1 | Winchester Model 64 30 WCF |
| 2 | Marlin Golden 39A 22 SL/LR |
| 3 | H&R Model 922 w/ Box 22 Cal. |
| 3a | Remington 12ga Semi Auto |
| 4 | Ruger 22 Bearcat |
| 5 | Winchester Model 190 22LR |
| 6 | Model 1886 Winchest 33 Cal. WCF |
| 6a | Ruger Trooper MK II .22LR 4″ |
| 7 | Winchester Model 1894 30 Cal. WCF |
| 7a | Mossberg 183D .410ga Bolt Action |
| 8 | Colt Single Action Army 44 Special Cal. |
| 9 | Remington Model 700 30-06 SPRG Bolt Action |
| 9a | Marlin West Point Mod GA22 .22LR Only |
| 10 | Bersa 383-A 380 ACP Handgun |
| 10b | Professionally Mounted Deer |
| 11 | Remington Modell 700 35 Whelen |
| 11a | Winchester 1890 .22Long Pump |
| 12 | Remington Model 700 BDL 22-250 Cal |
| 12a | Mossberg Mod 151M-B .22LR Only |
| 13 | Marlin Model 336 Cal 30-30 Win |
| 14 | Winchester Model 12 Heavy Duck 12 GA Solid Rib |
| 15 | Marlin Model 981T 22LR Rifle |
| 15a | JC Higgins Mod 20 12ga Extra Chokes |
| 15b | Professionally Mounted Buck & Doe |
| 16 | Smith & Wesson 22 Cal. |
| 17 | Remington Arms Model 11-48 28 GA 2&3/4 IMP CYL |
| 18 | Model 1894 32 Winchester Special – Take Down |
| 18a | Hi Standard Mod H-D Military .22LR |
| 19 | Repro- Colt 1861 Navy 36 Cal. |
| 19a | Lefever Arms 12ga 32″ Barrel Vent Rib |
| 20 | Taurus PT-25 25 ACP Handgun |
| 20a | Marlin Model 92 .22LR Rifle |
| 20b | Professionally Mounted Deer |
| 20c | W.R. Case Cutlery Knife & Holster Set NIB |
| 21 | Winchester Model 12. 12 GA 2&3/4 – Full |
| 21a | Springfield Mod 67F 410ga Pump |
| 22 | Winchester Model 1873 Lever Action w/ Saddle Ring |
| 22a | Winchester 1897 12ga Pump |
| 23 | Winchester Model 1873 32 CAL WCF |
| 24 | Remington Model 1100 12 GA 3 in. |
| 24a | Rossi RB22M .22 WMR Bolt Action |
| 25 | Colt Colteer Model 4-22 22LR Rifle |
| 25a | Stevens 940A .410ga Single Shot |
| 26 | Remington 870 Mag. 12 GA 2&3/4 & 3 In. |
| 27 | Winchester Model 94 30 CAL WCF |
| 27a | New England Firearms 410ga Single Shot |
| 28 | Remington Model 870TB Wingmaster 12 GA |
| 29 | Winchester Model 94 32 WS Cal. Saddle Ring |
| 30 | Springfield XD-S 9mm 3.3″ Handgun |
| 30a | Remington 12ga Pump |
| 30b | Sear Roebuck Mod 200 12ga Pump Vent Rib |
| 31 | Colt Frontier Scout 62 22 Cal. |
| 32 | Colt Single Action Army 45 |
| 33 | Ithica 10 GA Hammer Gun 1892 |
| 33a | High Standard Derringer .22LR |
| 34 | LC Smith 10 GA |
| 35 | Colt Sporter Target 223/556 Rifle Pre Ban |
| 36 | High Stand. Dura-matic 22 Cal LR M-100 |
| 36a | Ithaca Mod Mag-10 10ga Semi Auto |
| 37 | Marlin 1893 DXL Riffle Take Down Model |
| 37a | Anschutz Model Match 64 .22LR Bolt Action |
| 37b | Remington Arms Co Scope w/Precision Rings |
| 38 | LC Smith Field Model 12 GA |
| 39 | Marlin Model 90 Over/Under 20 GA |
| 39a | Remington Mod 870 12ga |
| 39b | Mossberg Mod 190 16ga Bolt Action |
| 40 | Jennings J-22 22LR Handgun |
| 40a | Savage 12ga Plastic Tenite Stock SG |
| 41 | Remington Model 700 22-250 Cal |
| 42 | Remington Model 700 BDL 338 Win Mag |
| 42a | Crvena Zastava Mod 70 Cal 7.65mm |
| 43 | Marlin 39 A 22 Cal ORG. Golden SL & LR |
| 43a | Hi Standard Supermatic Citation .22LR |
| 44 | Winchester Model 94 Nickel Steel Barrel 30 Cal WCF |
| 44a | Westernfield M160B 20ga Bolt Action Full Choke |
| 45 | Ruger MK-II 22LR 10″ Handgun |
| 45a | Wolf Magnum .50cal Bushnell Scope |
| 46 | LC Smith F Grade |
| 47 | Winchester Model 1890 22 Long |
| 48 | Remington Model 700 BDL 30.06 SPRG w/ Scope |
| 48a | Ithaca Mod 37 Featherlight 16ga |
| 49 | Winchester Model 61 22 SL or LR |
| 50a | Enfield 1918 8mm Rifle Weaver Scope |
| 51 | 1892 Winchester 32 WCF Cal. Take Down |
| 51a | S&W 38 S&W Special |
| 51b | Winchester 77 .22L Semi Auto |
| 52 | Marlin Model 1893 25/36 Cal. |
| 53 | Steven's Savage Model 22-410 Combo Gun |
| 53a | Winchester 4 Wheel Wagon to Restore |
| 54 | Imp. Arms 12 GA DBL BRL |
| 54a | Remington Mod 742 Woodsmaster 30-06 SPR |
| 55 | Winchester 1890 .22 Short Pump Octo Barrel |
| 55a | 2004 Sharps Pedersoli .45-110 34″ Barrel |
| 55b | 35 Live Rounds & 39 Spent 45-110 Ammo |
| 56 | Rocky MT Special Remington M700 30.06 SPRGF. |
| 57 | Remington M121 Field Master 22 SL & LR |
| 57a | Remington 550 .22 S L LR |
| 58 | Remington M12 22 SL & LR |
| 59 | Winchester M94 25-35 Cal WCF |
| 60a | Winchester 1897 12ga Pump |
| 60b | DU Raffle Knife Set 3 Piece NIB |
| 60c | Winchester Mod 06 .22LR Pump |
| 61 | Remington M700 BLD 30.06 SPRG |
| 61a | Remington .22LR Pump Rifle |
| 62 | Ruger 22 Cal 22/22 MAG SING- SiX EXT CYL |
| 63 | High Standard DBL 9 22 Cal Longhorn |
| 63a | Browning Light Twelve 12ga Semi Auto |
| 64 | Winchester M1876 CENT. 45/75 Cal. |
| 65 | Jimenez Arms .22LR Pistol 2 Mags |
| 65a | Remington Wingmaster 870 12ga Pump |
| 66 | EIG Model E15 22 Cal. Revolver w/ Holster |
| 66a | Jimenez Arms J.A. 380 .380auto |
| 67 | Steven's Arms Crack-Shot 22 LR |
| 67a | Browning BT-99 Special Steel 12ga. Leather Case |
| 68 | Ruger Liberty S-Six New in Box 22/22 Mag. EXR CYL |
| 69 | Winchester M94 30WFC |
| 69a | New England Handi Rifle SB2 .280Rem |
| 70 | North American Arms .22LR Belt Buckle Pistol |
| 70a | Winchester 1906 .22S L LR Pump |
| 71 | Remington M700 270 Win. |
| 71a | Norinco CSI SKS 7.62×39 Bayonett |
| 72 | Winchester M62A 22 Short |
| 72a | Stevens 67L Series E .410ga Pump |
| 73 | Colt FRT. Scout 22 LR. 100 NE CENT. W/ Box |
| 74 | Marlin 1893 30/30 1/2 RND/OCT. |
| 74a | Ruger New Bear Cat .22LR |
| 75 | Winchester .30-30 Knife Set NIB Limited Edition |
| 75a | BSA Platinum Target/Hunting Rifle Scope |
| 76 | Winchester M1892 32 WCF |
| 77 | Marlin 1897 22 Cal. |
| 77a | Remington 870 Wingmaster 12ga |
| 78 | Winchester M1894 30 WCF Saddle Ring |
| 79 | Remington Arms 22 Cal. |
| 80a | Heritage Rough Rider .22LR |
| 80b | Mossberg 835 Ulti-Mag 12ga Pump Engraved Vent Rib |
| 81 | Winchester M94 30/30 Win. 100 NE CENT. New in Box |
| 82 | Winchester M70 300 Mag. Bolt Action Custom Engrav. |
| 83 | Winchester M9422 XTR 22 Cal. 22 SL/LR |
| 83a | Wolf Magnum 50 cal Bushnell Scope |
| 84 | Steven's 1915 32 LR |
| 85 | Smith & Wesson 12GA Barrel Only |
| 86 | Ithaca Flues Model 16 GA |
| 86a | Jimenez Arms J.A. .380 Auto |
| 87 | WERK-HENEL-SUHL German 16 GA |
| 88 | Colt SNGL Action Army 45 NV CENT |
| 88a | Stevens 620 16ga Pump |
| 89 | Colt 45 Single Action Army 7 in. |
| 89a | Savage Fox Mod B 12ga Double Barrel |
| 90 | Winchester M71 348 Cal. WCF |
| 91 | Uncle Henry Limited Ed. Schrade Knife |
| 92 | Colt Frontier Shooter SAA 44-40 |
| 92a | Winchester 67 .22S L LR Bolt Single Shot |
| 93 | Single Pistol Holster |
| 93a | All Parts & Labor CASH Vintage Sign 37×18 |
| 94 | Colt SAA 38 WCF |
| 95 | Winchester M42 410 3In Cham. Full |
| 96 | DBL Leather Holster |
| 97 | Colt DA 38 Lightning |
| 98 | Winchester M12 12 GA w/ Trap 2&3/4 Cham. Full |
| 99 | Leather Single Holster |
| 100 | Colt 38 WCF |
| 101 | Browning BL-22 Cal. SL/LR |
| 101a | Iver Johnson Champion 16ga Single Shot |
| 102 | Colt SAA 38 WCF |
| 103 | Remington M700 35 Whelen |
| 104 | Cimarron 1873 Lightning 32 WCF 7 1/2 Barrel |
| 105 | Black Leather Double Holster |
| 106 | Remington M700 7MM Rem. Mag. w/ Scope & Sling |
| 107 | Winchester 1873 38-40 |
| 108 | Winchester 1886 Saddle Ring Carving 38-56 WCF |
| 109 | Winchester M36 9MM Rem Fire |
| 110 | High Standard DBL 9 Rev. 22 Cal SL/LR Convt. 5.5B |
| 111 | Remington M700 7MM-08 Rem. NIB |
| 112 | Lefever 12 GA DBL BRL |
| 113 | Winchester M9422 M Cal 22 Win Mag w/ Bushnell SCP |
| 114 | Colt 45 4 1/2 in Barrel |
| 115 | 1886 Winchester 38-56 WCF |
| 116 | Browning Sweet 16 Belgium mod 16 GA Semi Auto |
| 117 | Winchester M1886 40-82 WCF w/ Tang Site |
| 118 | Remington M700 300 Savage Cal NIB |
| 119 | Ruger Single 6 Early Model Flat Gate 5.5in. BRL |
| 120 | Older Leather Holster |
| 120a | Choice Pistol Holster |
| 120b | Ruger B.H. El Paso Saddlery Holster & Belt |
| 120c | Leather Gun Holster |
| 121 | Winchester M1886 40-65 WCF |
| 122 | Winchester M70 Pre-64 300 H&H Mag Lyman Scope |
| 123 | High Standard DBL 9 22 Cal. Longhorn Gold Grip |
| 124 | High Standard DBL 9 22 Cal Longhorn Black Grip |
| 125 | Ruger Single 6 22 Cal. 5.5in. BRL |
| 126 | Prouty Knife Portland OR |
| 127 | 2012 Remington Framed Calendar |
| 128 | Custom Antler R.E.S. Knife & Holster |
| 129 | 2009 UMC Barnwood Framed Calendar |
| 130 | Winchester M70 Featherweight 30.06 SPRG |
All Purchasers of Firearms must have a Nebraska Firearms Purchase Permit or FFL.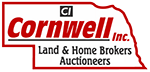 Auctioneers
Tom & Casey Cornwell, Clint Mickey
Dan Muirhead
RogerObermeier
SUBSCRIBE TO OUR TEXT ALERTS

Cornwell, Inc. occasionally sends out text notices of upcoming auctions. If you would like to receive these updates by text please submit your cell phone number.