FARM RETIREMENT AUCTION LIVE & ONLINE

Estate of Rich LaBrie
Tuesday, June 13, 2023 |10:00am CST
LOCATION: 506 W 6th Road Giltner, NE 68841
DIRECTIONS: From Giltner, approximately 1 3/4 miles west on 6th Road, located on the south side of the road.
Sale signs will be posted.
Miscellaneous and small items will sell at 10:00am,
Live & online items will sell at 1:00pm through Equipment Facts

Lunch stand will be on site for purchase
TRACTORS * TRUCKS * COMBINE * CONSTRUCTION * HARVEST EQUIPMENT
1986 Freightliner Day Cab Semi, Wet Kit, Miles Showing 1,064,025

1994 Peterbilt Semi, Sleeper, Headache Rack, Miles Showing 723,323

1996 John Deere 8100 MFWD Tractor, CAH, Duals,Front Tires

380/85R34,Rears 480/80R46, Hrs 7,550

1979 John Deere 4840 Tractor, CAH, Duals, Front Tires 16.5L-16.1 SL,

Rears 480/80R42, Hrs 13,473

John Deere 3010 Diesel Tractor, SN: T31451

CAT 938F Payloader, Tires 800/65/R32, Approximately Hrs 38,000, hr

meter incorrect

LS 5000 Linkbelt Excavator, Hrs Not Varified

CAT Lexion 460R Combine, Hrs 3,800 Engine, 2,507 Separator

Claas F900 30' Platform Flexhead and Head Trailer

Claas Lexion C508-36 Corn Head

Brent 774 Grain Cart, corner unload
FARM IMPLEMENTS * ATTACHMENTS* VEHICLES
3 pt. Blade
Bale Mower, Broom, 3 pt. Mount or Mount for Payloader
3 pt. Disk, Custom Built
John Deere 885 Cultivator
Lindquist 6 Row Hiller, Hawkins Units
Lillston Rolling Cultivator
Lindquist NH3 Bar 12 Shank
Rhino RC25 3 pt., Mounted, 8 row 36", 10 Row Narrow
John Deere 710G 6 row, 36" planter
John Deere 7200, 12 row 36" planter, with extra boxes, Yetter openers
Orthman Bar, liquid drops, starter, other parts
Hiniker 6000 hiller, 12 row 36" Fertilizer Bar
Massey Ferguson Field Cultivator, 31'
Sunflower Chisel Plow Pull Type
John Deere 220 Disk
Bessler 6 Row 36" Rolling Stalk Chopper
Bestway Sprayer, Pull Type
Misc. Tillage Equipment
Barrels & Pumps to fit a 8100 JD
JD Plow
Various Vehicles-Ford, Denali, GM
TRAILERS
2001 Wilson Grain Trailer, Triple Axle

2014 Grain Trailer Wilson, Triple Axle

2006 Smith Co. Side Dump Trailer

1993 Drop Deck, Trail King

2 Wheel Trailer Utility Style

Fuel Trailer, Portable

Small Fuel Trailer
IRRIGATION EQUIPMENT
Diesel Power Unit Cart, Berkley Pump
Irrigation pipe, 6", 8", 9", 10", Plastic and Aluminum Pipe
Power Units
Irrigation Pipe, Plastic Pipe Large Assortment
Pipe Trailers
SHOP TOOLS * GRAIN HANDLING ITEMS * MISC. ITEMS
Augers- Truck Augers, Loading Augers, various makes and models
Grain Spreaders
Overhead Brown Bin, Cake Bin
Bolts, Nuts, Assorted Shop Items,
Hydraulic Fittings, Blocks, and More
Misc. shop items, Trailered Items
Big A Floaters
Misc. Manure Handling equipment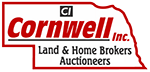 Auctioneers
Tom & Casey Cornwell, Clint Mickey
Dan Muirhead
RogerObermeier
SUBSCRIBE TO OUR TEXT ALERTS

Cornwell, Inc. occasionally sends out text notices of upcoming auctions. If you would like to receive these updates by text please submit your cell phone number.