SHIRLEY KNORR REAL ESTATE & PERSONAL PROPERTY

AUCTION
LOCATION: 1402 HWY 34, YORK, NEBRASKA
Thursday, June 3, 2021 * 9:30 AM
9:30 AM PERSONAL PROPERTY – REAL ESTATE at 12:00 Noon
12:00 Noon
Real Estate: 1402 Hwy 34, York, NE

About the Property;
The Home is a 2 Story 1900's Era Home. It
has approximately 2,120 sq. ft. of living area. It has Central Heat
and Air Conditioning.
It
has a partial un
–
finished basement.
The
home will need some TLC.
Other Buildings;
2 Detached 2 & 1 Car Garages; A Larson Metal 2
Stall Oversized Quonset. Open Front Storage Shed. A Single
Metal
Framed
Car Port.
2 Single Wide Mobile Homes
–
One
livable
and one for Storage.
Lot Size;
It has 5 acres more or less.
Terms on Real Estate;
15% down payment on sale day. Balance
Due on or Before July 3, 2021 at which time a Title Policy showing
marketable title will be delivered.
The Sale of this property is
not
contingent upon financing.
The Property will sell As
–
Is with no
guarantees of any kind. All inspections and due diligence will be
buyer's responsibility and any costs associated with such.
Possession;on Final Closing Date
Cornwell Inc are representing as Seller's Agents
Clint Mickey 402-694-8470
Casey Cornwell 402-631-3254
Tom Cornwell
9:30 AM – SHOP EQUIPMENT – TOOLS – ENCO LATHE – MILLING & DRILLING MACHINE
1988 Enco Model 110–2031 2 Speed Metal Lathe, SN 1040; Enco Milling & Drilling Machine Model 105–1100 12 sp, SN 943723; 1984 Enco Vicking Grinder ¼ hp 110V Model 161–2010; Hobart Handler 180 Meg Welder w/Tank; Oxy Acetylene Welder/Torch Set w/Cart;Power Pro 5 Hp Upright Air compressor; Lincoln AC 225 Amp Welder; Century 40/2/200 Battery Charger; Makita Cut off saw; Black Hawk 3 Ton Cherry Picker Hoist; Rem Line 6 drawer tool cabinet; ATD Tools 3 drawer chest; Air Impacts; Crescents; Ball Pean Hammers; Tin Snips; Screwdrivers; Punches, chisels; Nippers; Deep Sockets; Stanley Stubbys; Test Rite ½ HP Bench Grinder & B&D Grinder; Welding Bench w/vise; B&D Grinder; Elward Jack #7; Ext Cords; Block & Tackle; Jumper Cables;Tow Straps; Genie 12 Gal Wet Dry Vac; Several Socket Sets; Huge Amount of Wrenches, Hand Tools; 5" Vise; Crowbars; C Clamps; Vise Grips; 2 Dewalt Right Angle Grinders; Gear Pullers; Spray Paint Cans; Rockwell Impact Driver; Battery Tester; Pedestal Tire Changer; Magnet; T Handle Allens; Files; Tap & Dies; Small Press; Heater Contractor space heater; Dewalt Flashlight; Pipe Wrenches; 2 ½ Ton Floor Jack;
WOOD WORKING TOOLS; Ryobi 10" Table Saw; Wen Miter Saw; Central Machinery Dust Collector; Central Machine 1" x 30" belt sander; Tool Shop Miter Saw w/stand; Wilton Router Table; Carpenter Tools; Staple Guns; Drill Doctor; Router Bits; Nail Guns; Palm Sanders; Squares; Stanley Saw Horses; Hand Saws;
LAWN & GARDEN; Troy Bilt Mustang XP Zero Turn 60" Mower, near new; Vintage Pennsylvania Panzer Garden Tractor;Case 130 Garden Tractor, runs; 25 HP Ariens Hydro Static Garden Tractor, uses oil; Poulan Pro 500 EX Lawn & Garden Tractor; Gas Hand Post Hole digger; 2–wheellawn cart; 110V Elec. Power smart Snow blower; Pick Axes; Rakes; Pitch Forks;Shovels; Spades; Apple Picker; 60' Alum. Ladder; 20 & 22' alum ladders; Homelite Tree Limb Elec Chainsaw; Bug Killer Burgess; Heat Gun; Several Log Chains; Come A Longs; 2 Gas Generators; Tractor Lawn Sprinkers; Tru Tender Yard Cart; Lawn Mowers; Pull type thatcher; Pull type yard packer roller;
MISC. FURNITURE & HOUSEHOLD ITEMS; Kenmore Side/Side Refrigerator; Kenmore Gas 30" Range; Maytag Washer & Dryer; Kenmore Refrigerator; Coolers; Corner Entertainment Center;
TRAILER –AXLES; 2 Trailer House Axles w/brake, tires; Homemade Flatbed Trailer; 3 pt Dirt Scoop; 2 Spring tooth harrow sections; MISC; Large Insulated Dog House;Horseshoes; Gas Cans; Propane Bottles; Handi Cap Walker; Pickup Tow Bar; Mop Bucket; Trash Cans; Luggage Rack w/receiver; B&D Workmate; 2 Door Wire Quick Fold Pet Carrier New; Shelving; Misc. Porch Rails; Locking Display Case;
NEW INVENTORIES
;
Ignition Parts;
Elec Wire Spools;
Used
Tires; Cement Blocks;
COLLECTIBLES;Big A Shop Cabinet; Wagner Lockheed Cabinet; Niehoff Cabinet;Hoosier Type Kitchen Cabinet, painted; Singer Sewing Machine; Tell City Maple Telephone Bench; Spring Horse; Oak Buffet; 2 Glass Ball Lightning Rods; Diamond Calk Horseshoe Wooden Box; Horse Collars; Barn Doors; Antique Yard Gate; Army Blanket; 4 Ammo Boxes; Antique Level & Block Plane; Blow Torches; License Plates; 2 Barn Antique Hay Mow Barn Forks;Cross Cut saw; Deer Antlers; Several Cream Cans; Milk Buckets; Galvanized Bath Tub;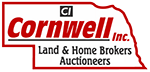 Auctioneers
Tom & Casey Cornwell, Clint Mickey
Dan Muirhead
RogerObermeier
SUBSCRIBE TO OUR TEXT ALERTS

Cornwell, Inc. occasionally sends out text notices of upcoming auctions. If you would like to receive these updates by text please submit your cell phone number.