MAX KEASLING FARM RETIREMENT

AUCTION
Max Keasling – Owner – 402-984-0080
LOCATION: 32360 RD J, HARVARD, NE 68944
FROM GILTNER: 5 MILES SOUTH, 1 MILE EAST, 1 1/2 MILES SOUTH
FROM HARVARD: 1 1/2 MILES WEST, 3 1/2 MILES NORTH
Monday, Aug 2, 2021 * 9:30 AM
Major farm equipment will sell at 11:00 am and offered online as well as the live auction at EquipmentFacts
TRACTORS
1995 Case IH 7230, SN: JJA0059767 W/ Duals, 18.4R42, 4,833 Hrs.
1989 7120 International Tractor, New Cab Interior & Seat, 2WD W/ Duals SN:JJA0015243, 9,206 Hrs
Farmall M As-Is, F10 Farm Hand Loader W/ Grapple & Snow Bucket.
Farmall M w/ American Econ Lift Loader Model 20, Running
COMBINE – HARVEST EQUIPMENT
1977 JD Turbo 7700 Combine, SN: 26469114.
1995 John Deere 9500 Combine, 1995 SN: H09500X661317, 4,401 Engine Hrs, 2,842 Separator Hrs.
JD 218 Platform Head SN:580660, Wooden Reel.
JD 644 Row Crop Head W/ Down Corn Reel 6R36".
International Head W/ Hesston Head Hunters, 6R36".
Bish Head Changer- Int to JD.
Brent 620 Auger Wagon, Middle Unload 1,000 PTO SN: 85-61059.
Big 12 Auger Wagon, 12K Cap 24,000 SN: 9254.
Westfield WR 80-61, 540 PTO, SN: 278286.
Feterl Auger, 540 PTO, No Flighting, As-Is.
Kewanee PTO Driven Augers As-Is.
3 PT Pivot Track Closer
FARM EQUIPMENT
JD 7100 6R 36" Planter & Markers.
JD E0400, SN: 051897N Rotary Hoe.
Brady Flail Shredder, 8 Row 30" 2400 Model.
Besler Model 70636 SN:17599, 6 Row 36" Stalk Chopper W/ Harrow.
JD 5 Bottom Plow, Semi- Mounted.
Krause 1072, SN5469 Pull Type Chisel, 13 Shank.
JD Van Brunt Grain Drill.
Hiniker 6 Row36" Hiller.
Hiller 6R36".
Field Cultivator.
3 PT Fertilizer Bar, 9 Shark Yetter Openers, Colters.
2 PT Chisel, 15 Shank, International Chisel Plow W/ Sweeps.
York Agri Products "The Mulcher", 7 Shanks, 36" Spacing, Ripper
TRUCKS
1991 Chevy Kodiak Fuel Injection 01GBL7H1P2MJ100625, Knapheide Box & Hoist W/ Tarp, 364 Engine, Tag Axle, 34,066 Miles
1972 Ford 900, Steel Box, Wood Floor, Hoist Twin Screw. Showing 37,426 Miles
1959 Ford F-600 Straight Truck, Box & Hoist, Running.
IRRIGATION
Floating Pit Pump Berkeley Pump.
Aluminum Irrigation Various Sizes, 8" X 10".
Aluminum Irrigation Fittings Assorted.
Irrigation Cart.
Two- Pivot Stops, Galvanized Stops.
2-Bish Built Pipe Trailers
Intec for Meter, Chemigation Pump, Model 1-70, SN: 4803-1-70
MISC EQUIPMENT & LIVESTOCK EQUIPMENT
Ashland Industries 450 S, SN: 12604 Cap 4-1/2 Yards- Dirt Scope, Pull Type, Hydraulic Dump.
3 PT BMB Shredder, No Clutch, Mod 5-6 SN: H6-4727.
Orthman 3 PT Hitch Cat. 3.
3 PT Hitch Cat. 2.
Cattle Feed Panels, Feed Rack Panels.
Misc. Cattle Panels.
Water Wagon Trailer, 1,000 Gal Tank.
Portable Cattle Chute.
NO. 5 JD Mounted Sickle Bar Mower.
Custom Built Front Mount Push Blade- 856 or 1086.
Misc. Iron Shanks. 2 PT. Adapters.
Bale Feed Wagon.
Dump Box Wagon, Hydraulic Cylinder, Electric Gear.
Electric 4 Wheel Running Gear W/ Hoist.
2 PT Pig Carrier.
3 PT. Sprayers.
Barrel Mounts- Case IH Fits to 7120.
Dry Fertilizer Box Only.
Livestock Pickup Rack.
Wooden Fence Post.
3 PT Bale Mover.
3 PT 4X4 Double, Bar Only.
Loader & Brackets Model 17 Allis Chalmers Loader.
Misc. Horse Drawn Equip.
Galvanized Corrugated Tin.
Dump Rake.
Old Iron Wheels.
Case Manure Spreader.
Panel Trailer.
Pick up Fuel Tanks As-Is.
Creep Feeder.
2 Round Bale Feeders
SHOP & OUTDOOR ITEMS
1972 Larson Mercury 115 HP Boat & Trailer.
Welding Table.
Misc. Shop Related Items.
Bicycles.
Misc. Iron.
Disc Blades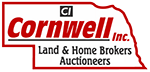 Auctioneers
Tom & Casey Cornwell, Clint Mickey
Dan Muirhead
RogerObermeier
SUBSCRIBE TO OUR TEXT ALERTS

Cornwell, Inc. occasionally sends out text notices of upcoming auctions. If you would like to receive these updates by text please submit your cell phone number.