Larry W. Stolzer Estate & Kenneth L. Liess Estate
Firearm and Ammo Auction
Fri, December 9th, 2022 Ammo Selling 3:00pm-8:00pm
Sat. December 10th, 2022 Non-Catalog/Misc Items 9:00am, Cataloged Items to Follow 
Farr Building, Hamilton County Fairgrounds  310 A Street Aurora, NE 68818
Lunch Stand Friday & Saturday * Indoors *
*** No online bidding ***
Dec 9 Ammo
Gun Powder: 1 LB. Hodgdon: H110; HP-38; H414; H4895; 1 LB Alliant Powder:  Red Do; Unique; Enduron Technologies:1 LB. IMR 7977;1 LB Accurate: 2230; 2460
Safes & Gun Related Items : Cannon &  Liberty Safe; Soft & Hard Gun Cases; Gun Related Items; Clips; Magazines; Vintage Remington Display Poster; Vintage Ammo & Ammo Boxes; Reloading Supplies
Ammo Brands Include: 3 Lees Co.; Activ; Aguila; American Eagle; Armscor; Black Hills; Blazer Ammunition; Blazer Brass; BPS; Brown Bear; Browning; CCI; Centerfire Ammunition; CI; Colt; Crossman; Custom Loaded; Daisy; Enforcer; Federal; Fiocchi; Fusion; Gamo; Hansen Cartridge Co.; Herter's; Hornady; HotShot; Independence; LaPau; Magtech; Make Your Mark Munitions; Monarch; Norinco; Olin; Perfecta; Pistol Pete's; PMC; PPU; PrairieLand; ProAmm; PRVI Partizan; RAM; Reloads; Remington; Rifle Line; Sellier & Bellot; Sierra; Sig Sauer; Silver Bear; SME; Tulammo; Union Metallic Cartridge Co.; Winchester; Wolf; ZQI;
Caliber of Ammo: .177 Flat Lead Pellet; Hollow Point Lead Pellet; .22 Long Rifle; Long Rifle AutoMatch; Long Rifle Copper Plated Hollow Point; Long Rifle Golden Bullet; Long Rifle Silvertip; Long Rifle Standard Velocity;  Long Rifle Super Extra;  Long Rifle Super Extra Standard Velocity;  Long Rifle Super X;  Magnum;  Magnum Nickel;  Super Extra;  Super Extra Hollow Point;  WIN MAG;  WIN MAG Super X;  WMR Maxi Mag; Soft Point Bullets; Varmint Soft Point Bullets; V-Max  with Cannelure Bullets;  V-Max Bullets; Long Rifle AutoMatch; Long Rifle Golden Bullet; Long Rifle High Velocity; Long Rifle High Velocity American Eagle; Long Rifle High Velocity Limited Edition; Long Rifle HP Mini-Mag; Long Rifle HV HP; Long Rifle HV Match; Long Rifle Hyper Velocity; Long Rifle Mini-Mag; Long Rifle Power Point; Long Rifle Quiet-22; Long Rifle Shotshell Pest Control; Long Rifle Small Game; Long Rifle Standard Velocity; Long Rifle Stinger; Long Rifle Super Extra High Velocity; Long Rifle Super Speed; Long Rifle Super Speed HP; Long Rifle Super X High Velocity; Long Rifle Target; Long Rifle Thunderbolt; Long Rifle Varmint; Long Rifle Wildcat Target & Plinking; Long Rifle Wildcat High Velocity; Long Rifle WMR HP Maxi Mag; Long Rifle WMR Maxi Mag; MAG; Mag V-Max; Magnum; TCM; TCM Pistol; WIN MAG Polymer Tip; WIN MAG Silver Eagle; WIN MAG Varmint & Small Game; WIN Mag Varmint HV; WIN Magnum; Winchester Magnum ; WMR HP Maxi-Mag; WMR HP+V Maxi-Mag; WMR Maxi-Mag; WMR TNT Green; WMR V-MAX Polymer Tip;Maxi Mag 22 Winchester Magnum; Small Pistol for Magnum Pistol Loads; Small Pistol for Standard Pistol Loads; Small Pistol Primers NO. 500; Small Rifle Loads; .223 REM Full Metal Jacket; REM American Eagle; REM International Select Grade; REM V-Max; Remington; .308 WIN;  WIN Power Shok;Speer 50 GR H414; 308 WIN or 7.62 x 51 MM (1978); WIN Power Shok; Winchester; .357 Magnum; Magnum; Magnum American Eagle; 38 Caliber FTX Bullets; .44 REM-MAG; 10 MM Auto American Eagle; Auto Blazer Ammunition; Auto Full Metal Jacket; Auto Premium Personal Defense; Auto Silvertip Super X;XTP Bullets; Magnum; Magnum High Terminal Performance; Magnum UMC; REM MAG; 12 Gauge 00 Buckshot; Buckshot Load; Dove & Quail; Dove & Small Game;  Dove/Quail Load; Duck & Pheasant; Field & Target; Pheasant; Rifled Slug HP; Super X 6 Shot Game Loads; Super X High Brass; Super X Lead Shot; Target Load; 17 HMR Varmint Express; WIN Super Mag; WIN Super Mag Polymer Tip; WIN Super Mag Polymer Tip American Eagle; 22-250 REM; REM High Velocity; 25 Caliber BTSP Bullets; GMX Bullets; InterLock Soft Point Bullets; Spitzer Bullets; Varmint Bullets; Varmint Soft Point Bullets; Caliber V-Max Bullets; 25-06; American Whitetail InterLock; Power-Lokt; REM American Whitetail; REM Core-Lokt; 270 WIN;  WIN Core-Lokt;  WIN Express Core-Lokt; WIN Power Shok;  WIN Super X ; 30 Caliber FTX Bullets;  MonoFlex Bullets; SST Bullets; V-Max Bullets; 30-06; Armor Piercing; Express Core-Lokt; Springfield; Springfield Core-Lokt; Springfield Super X Power Point; 30-30 WIN; WIN Core-Lokt; WIN Power Shok; 40 S&W American Eagle; S&W Premium Personal Defense; 45 ACP; Auto;  Auto Brass Case;  Auto Service Grade;  Auto UMC;  FTX Bullets;  Jacketed Hollow Point Bullets;  XTP Bullets;  Colt; 454 Casull; 460 S & W FTX; 460 S & W Mag; 5.56 MM; (M855) X-Tac Rifle; M193; M855 Green Tip; NATO; x 45 MM NATO;XP193; 7.62 MM; NATO; x 39 MM; x 51 MM; x 51 MM NATO; x 39 MM; 9 MM; XTP Bullets; Luger; Luger Silvertip Defense; Luger Training Ammunition; Luger UMC; NATO; x 19 MM NATO; x 19;  Others;   Large Pistol for Standard or Magnum Pistol Loads; Large Rifle For Standard Rifle Loads;
GUNS
Winchester:  Mod 1200 12ga Semi Auto; Mod 67 .22 Bolt Action; Mod 12 16ga Pum 1897 16ga Pump; Mod 1873 32 Cal Lever Action; Super X Pump 12ga Home Defense; Mod 50 12ga Semi Auto; 1200 20ga Semi Auto; 1873 38 Cal Lever Action; Mod. 70 270 Win. Bushnell Scope; Lever Action 12 GA; Mod. 1890 .22 WRF Oct. BRL; Mod. 70 223 Rem. Bushnell Scope; Howa Mod.1500 223Rem. BSA Scope; 1906 .22 Short Pump; Mod. 94AE 30-30 Win. Tasco Scope; Buffalo Bill Commemorative 30-30; Mod 03 22 Cal Auto; Mod. 12 16GA. Pump; M1892 44 WCF Lever Action; 9422M .22 Win Magnum Lever Action; 1890 22 Short Pump Octagon Barrel; 1890 22 Short Pump; Mod 12 12ga Pump; 30-30 Win Golden Spike 1869-1969 w/Box; 61 .22 Cal Pump; M1890 22 RWF Octagon Barrel; 61 22 Cal Pump Weaver Scope; Mod 88 .308 Win Lever Action; M90 22 WRF;
Browning:  BLR LT .308 Win Simmons Scope;
Ruger: LC9s 9mm w/Laser Max Laser & LED Light NIB; Security Six .357 Mag w/Ammo & Case; 10-22 .22 Win Mag. R.F. Simmons Scope; Super Red Hawk .45 Colt or .454 Casull; GP100 357 Mag. 4" BRL; Target Model 22-45 MKIII 22 Cal. Org. Box; M K II .22 LR NRA Edition NIB; Mark II Target .22 LR 10″; 22/45 Lite .22 LR; 10/22 .22 LR; Stainless Pistol .22 LR NIB 1 of 5000; 10/22 .22LR 50yrs 1964-2014 NIB;  Super Red Hawk 44 Mag. Bushnell Scope; Ranch Rifle Cal. 223 w/ Tasco Scope;
Springfield Arms: 12ga Semi Auto; US Model 1878 Rifle; XDM 10mm Match 2 Mags & Case; US Rifle 30 M1; M1911-A1 45 Auto Cal.; M1922MI Cal .22 Training Rifle; Mod 1873 Trapdoor 45-70 w/Bayonet; Model of 1922 MI1 Cal 22; 7.65 MM Rifle with Scope; US Rifle Cal.30M1 Springfield Armory W/ Scope; XD5 45 ACP w/Box;
Savage: Mod 11 22-250 Rem Weaver Scope; Mod 112 22-250 Rem Bushnell Scope; .300 Savage Lever Action Weaver Scope; B/Mag. 17 Win. Super Mag.; Mod 516 .223 Rem w/Banner Scope & Ammo; Mod. 99 300 Savage Lever Action; 24V-A 30-30/20GA O/U; Mod 11 6.5 Creedmore Nikon Scope; Mod 30L-F 12ga Pump; Savage M110EL Series K 30-06 Cal.;
S&W: 45 Auto NWTF Edition w/Case; .22 LR; 357 Highway Patrolman; 10MM 6 1/2" with Speed Loader; M&P Shield 9MM Like New; MP Shield 45 Auto Orig. Box; . 22 Victory Snake Skin Graphics Original Box; M&P 380 Shield EZ NIB 380 Auto Cal.; M&P Shield 40 S&W Crimson Trace Laser; SW22 Victory .22LR w/Original Box; M&P Shield 40 S&W Crimson Trace Laser NIB; M&P 22 Compact .22 LR NIB; M&P Shield 40 S&W w/Original Box; M&P Shield 40 S&W NIB; M&P 45 Auto w/ Case; 357 Magnum Revolver; 9mm Revolver 3 1/4″ Barrel; FNH FNP-40 .40 NIB; American Derringer Corp .40 Cal. Stainless w/Box;  460 Mag. 10.5" BRL;
Remington: 1911 US Army 45 Auto; Mod. 550-I .22 Bushnell Scope; Mod. 25 25-20 Pump; Mod. 700 25-06 Rem. 8X56 Scope; Sportman 58 16 GA Semi Auto; Mod. 27 25-06 Rem. Sendero Leapers Scope; Mod. 25 32 WCF; Field Master M121 .22 S/L/LR; Wingmaster M870 28 Ga.; 1100 16 Ga. 2 3/4″ Classic Field; Mod 581 .22 Bolt Action Single Shot; Sportster 12ga Parts Gun; Gamemaster Mod 760 30-06 SPRG; Field Master 572 .22 Cal Pump; Gallery Special .22 Short Pump; M700 LH 30-06; M550I 22 Cal.; Mod 17 20 ga Full Choke 1928; Express 12ga Syn Full Camo Pump NIB; 12-CS 22 Rem Special Pump;
Colt: 38 Rimless Smokeless; 1903 Hammerless 32 ACP Type 3; PT 22 Cal Rifle Pump Action; Govt Model .45 Auto NIB; The Woodsman .22 LR w/Original Box; D.A. 45 US Army Model 1917 w/US Holster; Scout .22 Cal Gold Spike Commemorative NIB; 32-20 WCF Revolver;
Hi Standard: Dura Matic .22 LR; Model C9 9mm Luger w/Ammo & Case; Mod. 1095 10MM Auto; Dura/Matic .22; Mod. JHP 45 ACP 3 Mags; HD Military .22LR 4 1/2"; Double-9 .22 As is; Auto Target Pistol Mod. B .22; Double- Nine .22 Cal. Original Box; H-D Military .22 LR w/Original Box; Olympic 22 Short; SuperMatic .22 LR; Supermatic Citation Mod. I06 Military; Mod 995 9mm x 19 Red Dot Sight; Sport King .22 LR Pistol; USA Model H-D .22 Cal; "Super Matic" "Citation" .22 LR; Mod 104 Super Matic Citation 22 LR; Mod B 22 Cal Pistol; Mod GB 22 LR Pistol; 36 Cal Revolver & Bowie Knife Set; Mod B .22 Cal; Victor .22 LR;
Mossberg: 835 Ulti Mag 12ga Pump; 715T .22LR Only; Patriot 25-06 W/ Scope Like New; 20ga Cruiser Home Defense NIB; 500A 12ga Home Defense Pump;
Stevens: Mod. 110E 30-06 Bushnell Scope; M320 12Ga. Pump;
Marlin: Mod 57 .22 Mag Lever Action Bushnell Scope; 30/30 Mod. 336SS BSA Scope; Mod. 983T 22 Win Mag Rimfire Only; XL7S 25-06 Rem. Tasco Scope & Ammo;
Beretta:   BU9 Nano 9mm Para Laser Sight; Cal. 9mm 1942 Pistol w/Holster;
H&R:  Mod. 904 .22LR w/ Ammo; US Rifle Cal 30 M1; Nebraska Cent. 1867-1967 22 Cal w/Case;  32 Cal Revolver As Is 3″; Topper M158 410 Ga. Full Choke;
Ithaca:  M 1911 US Army 45 Auto; X5 Lightning 22 LR; X5 Lightning .22 Bolt Action;  Mod 37 16ga Pump;  Mod 37 Featherweight Magnum 20 ga Pump; Mod 37 16ga Pump Featherlight;  M1911AI US Army 45 Auto;
Thompson Center Arms:  Auto Ordin. 45; Venture 223 Rem. BSA Scope;
Taurus: 357Mag. 12";  Mill. PT111 Pro 9MM W/ Case; PT1911 45ACP Upgraded Sights; 9MM; Millennium PT 140 Pro Cal .40 w/Box; Millennium G2 9mm NIB;  PT92 AF 9MM;
Henry: .22 Mag. Lever Action NIB; Cal .22 Magnum Lever Action Tasco Scopes; 357 Mag/.38SPO Lever Action Tasco Scope;  .22 Lever Action Nebraska 150 yrs NIB;  Golden Boy 22 LR Lever Action NIB; .22 LR Lever Action w/Original Box;
DPMS: 308 Cal w/CP Scope 2 Mags & Ammo & Case; N.E.F R 22 Ultra Mag 22 W.M.R.F; DPMS Cal Multi Mod A-15 New in Box; Mod. A-15 223 CP Scope & Target BRL; Mod LR-308 Cal .308 NIB;
Interarms: Mod 22 A.T.D Bushnell Scope 6×40;  MS71 .357 Mag; IMark X 30-06 Bolt Action w/Case;
Military & Other Guns: P.38 9mm Pistol; Rock Island Armory 45 ACP;Howa Mod 1500 .308 Win BSA Scope; German Luger S/42 1936 9mm w/Holster; Hopkins & Allen 12ga Double Barrel; Hi Point Mod C9 9mm Luger; Rock Island .22 TCM w/Ammo & Spare Mag & Case; WesternField 12 ga Pump; High Powered Air Rifle BSA Scope; New England Handy Rifle SB2 22-250 Rem; Norinco SKS 7.62×39 Weaver Scope; Desert Eagle 44 Mag Center Point Red Dot; Iver Johnson US Carbine .22LR; Issc M 22 .22LR w/Case; Excel Arms Mod. MP-22 .22WMR Red Dot Scope; Kassnar Imports 12 GA Double BRL Spain;Preduzecf 44 Mod 98 8mm? Rifle; Rock Island 22 TCM w/Scope; German Mauser 8 or 9 MM; Bushmaster Mod. XM15 223-5.56; Citadel M1-22 Semi-Auto Bushnell Scope; Norinco SKS7.62X39 Simmons Scope; IverJohnson 30 Cal. M-1; Heritage Rough Rider .22 Cal Combo NIB; Crosman American Classic Mod. 1377 Pellet Pist.;High Powered Air Rifle Foreign Made Bushnell Scope; Daewoo Precision VR/200 223 Cal. BSA Scope; Golden State Arms Santa Fe M-59 7.62mm Nato; German Luger P38 9MM; US Carbine Cal 30 M1; Whitney Arms Co. 38 Cal. Lever Action; German Luger M1917 9MM; US. Arms Co NY M No. 41 40 cal.;German Luger P39 9mm w/Holster; J Stevens 22 Short Visable Loading Pump Mod 70;Tauser Espanol Modelo 1893 Rifle Simmons Scope 7mm; German Luger P38 9mm w/Holster; BCD Mod 98 Bolt Action Rifle 8mm; Webley 45 ACP Revolver; Heritage Rough Rider .22 Combo Revolver NIB; Hammerli Arms Tac R1 22 LR NIB; Stag Arms Mod Stag-15 5.56mm AR w/Case; Erma-Werke Mod E M1 22 Germany .22; Beemen Sportsman 1000 Series Air Rifle; ISSC M22 Austria .22LR w/Case;; Stag Arms M15 5.56/223 Cal; Benjamin Franklin Pellet  M312; German BNZ M98 AS-IS 8MM Cal.; Beeman Sportsman RS1 Air Rifle; Hammerli Arms Tac R1 22 LR NIB; Walther P38 9mm Luger w/Holster; C.S. Shattuck Hatfield Mass. .32 Cal Revolver; Japan 8mm Pistol Made 1945; Mauser 7.65 German Pistol 8mm or 32 Cal.
All Purchasers of Firearms must have a Nebraska Firearms Purchase Permit or FFL.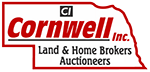 Auctioneers
Tom & Casey Cornwell, Clint Mickey
Dan Muirhead
RogerObermeier
SUBSCRIBE TO OUR TEXT ALERTS

Cornwell, Inc. occasionally sends out text notices of upcoming auctions. If you would like to receive these updates by text please submit your cell phone number.