SE NE Estate Gun Collection, Ammo, Gun Related Items and More
Live Auction
August 27, 2022
Farr Building, Hamilton County Fairgrounds, Aurora, NE
9:00am Non Catalog
11:00am Catalog Items
1:00pm 1990 Chevy Silverado 1500 Sells
LINK TO CATALOGUED ITEMS, NO ONLINE BIDDING AVAILABLE
FIREARMS
Firearms Purchaser's will need to have a Nebraska Firearms Purchase Permit or an FFL and all Out of State buyer's will need to follow firearms regulations or have an FFL.
BROWNING:
X-Bolt .308 Win Redfield Scope;
COLT:
22CAL M1883 Slide Action; Army M1917 .45 Cal US Army #23 682;
Sporter Match H Bar 223 Cal. 1 Extra Mag.;
S&W:
32 CTGE; S&W .357 Mag 7" Barrel Un Fired NIB; S&W 357 Mag W/ Aimpoint 1000 Scope&Holster; 44 Mag Combat Magnum; Air Lite PD .22 M.R.F w/Original
Box; Mod 622, 22 Cal. LR Only w/Holister; SD40 VE Extra Mag
MILLITARY FIREARMS:
7.5 French Rifle W/Bayonette & Sling MAMLE 1936-51; 7.7 Jap. Rifle W/Airplane Sights & Bayonette; Bolt Action 30-06 Military Style;
E.R. Amantion Brazil 20/28ga Over/Under NIB; German Rifle 1898, 8MM; Jap. Nambu Pistol; Military Rifle Ceskoslovenska Zbrojovka, Brno 8MM; SKS 7.62 X 39 Strap
& Bayonet; SKS All Black Folding Stock W/ Bayonette 30RD Clip; US Carbine Cal 30 M1 Folding Stock; US Springfield M1903 30.06 W/ leather Sling;
US Springfield W/ US Bayonet M.1873 45-70Cal
H&R:
10 Ga. Model 176 3 1/2 Full; H&R 25CAL Self Loading
HENRY:
Golden Boy.22 MAG .22WMR MH005M; .22LR Lever Action Railroad Tribute NIB; 45-70 Govt Lever Action New in Box; H001TRP .22LR Lever Action New in Box
HERITAGE:
Rough Rider 22 & 22 Mag 4 3/4'' BBL NIB; Rough Rider 22 Cal. 6.5" BBL, NIB; Rough Rider 22 Cyl 4 3/4'' BBL 22LR
ITHICA:
LSA 55 .243 Win Redfield Scope; M-49 22 Cal. Mag. RF ONLY, Lever Action; M500 20GA 3'' O/U
J STEVENS:
22LR M1915 Trade Mark Favorite; Mod. 335 12 Ga. w/ Extra Barrel; Mod 301 .410ga Single Shot New; Model 320 12ga Home Defense
MARLIN:
M1895SS GL45/70Cal Lever Action; M60 22LR Only; M783 22CAL WMR Only Bolt Action; Model 57-M .22 Magnum Lever Action; 94 CL 32-20
MOSSBERG:
500E .410ga Home Defense; DU Model 2 3/4 – 3'' 28''BBL; Model 590 .410ga Home Defense NIB; M500A 12GA Pistol Grip Handle
REMINGTON:
11-87 Premier 20ga Semi Auto;12GA Auto;7600 30-06 SPRG Weaver Scope;7600 30-06 SPRG Weaver Scope Pump;Field Master M572 22S/L or
LR; M783 Cal 270 WIN NIB W/ Scope; Nylon 66 .22 LR Only; Nylon 66 .22Cal; Nylon 76 22 LR; Sportsman 58 12ga Auto; 22 Short Only Model 24; Sporterized 30-06
1917; 1911 A1 45acp US Army; 41 22 S/LR; 870 12GA Exp.; 870 2GA;12 SL/LR22
RUGER:
10/22 .22LR Eagle Engraved Stock NIB; 10/22 .22LR Semi Auto Elk Engraving NIB; 22 Cal LR Auto PSTL W/ Holster; American 22 WMR Bolt Action NIB;
American 5.56 Nato New in Box; M10-22 22LR Manlicker Stock; MK II .22CAL Long Rifle W/ Case; MK II .22LR w/Box; MK II .22LR w/Box; New Model Single 6 .22Cal
WIN MAG Cyl.; New Model Super Black Hawk 44MAG CAL.; No.1 .270 Win Nikon Scope Like New in Box; Ranch Rifle .223 Sightron Scope; Super Redhawk 10mm
Auto NIB; Wrangler .22LR Burnt Bronze Cerakote NIB; Wrangler .22LR Silver Cerakote NIB; 77V25-06
SAVAGE:
.250-3000 Lever Action Weaver Scope; 101 Single Action .22Cal LR; 24 Series 22LR 410 3'' Chamber; M101 22Cal. LR Single Shot; M840 222CAL W/ 3 Extra RD;
Mod 19 22LR
WINCHESTER:
1895 .270 Win NIB; 1897 12ga Pump; M03 .22CAL Auto W/ Peep Sight; M1200 12GA 2 3/4'' Chamber; M1300 12GA 2 3/4 3'' Husker Edt.; M1897
12GA Full Choke Pump; M1897 12GA Mod.Choke; M1897 16GA Mod Choke Pump Nickel Fin.; M255 22 Win Mag. RF; M67A 22 Short/Long or Long Rifle; Mod 12 12ga
Pump; Mod 70 .270 WSM New in Box; Model 270 .22LR Original Box; Model 70 .243 Redfield Scope; Ranger 30/30WIN Lever Action 1894-1994; 94 30-30GA; 92 25-
20SRC; 92 38WCF; 52 LR 22; 25 12GA;12 12GA3" Mag.;
Non Catalog Items Include:
Ammo, Ladder Stands, Big Game Treestands, Deer Stands, & More 
Details on the 1990 Chevy Silverado Pick up: 
1990 Chevy Silverado 1500 Z71 Off Road 4×4
95,861 original miles
1 Owner, Clean
Off Road Package-Skid Plates
2,000 Miles on tires
Oil has been changed
Chrome bumper plates
New brakes and rotors on front
New battery and starter
5 Speed manual, 350 fuel injected
BEER SIGNS
Large assortment and collection of neon beer signs; bottles; Coors Wildlife Animal Series Pictures; Beer Boxes; Misc. Advertising Items; Keg Taps; Budweiser Pool Table Light; Other Metal Beer Signs. 3- Miller Bar Tap Handles; 3- Old Milwaukee Beer Bar Tap Handles; 3- Samuel Adams Lager Bar Beer Tap Handles; 3- Vintage Big Barrel Lager Cans 25oz; 4- Mixed Bar Beer Tap Handles; 4- Small Tin Bar Signs & Bud Light Ice Bucket; 5- Mixed Bar Tap Handles; 5- Vintage Beer Cans; 6- Vintage Beer Cans Un-Opened Full; 7 Vintage Bottles Some w/Original Contents; Altenmunster Bavarian Beer Large Glass Bottle 14"; Blue Moon Brewing Pub Sign 17"x19"; Bud Beer Stein & Sapporo Beer Can Japan; Bud Light Beer Neon Beer Light Working 25"; Budweiser Ice Light Draft Bar Mirror 25"; Budweiser Lighted Pool Table Light 45"x13"; Budweiser Racing Neon Beer Sign 29"; Budweiser Tin Bar Sign 23 1/2"; Canadian Club Whiskey Wall Hanging 18"; Don Q Whiskey Bottle 1/2 Gal on Metal Stand; Dr McGillicuddys Liquor Tin Bar Sign 24"; Fireball Whiskey Shot Wall Hanging 33"T; Fireball Whiskey Tin Bar Sign 20"T; Gentleman Jack Whiskey Bottle in Wooden Holster; Hamms Beer 2 1/4 Gallon Beer Keg on Stand; Heilemans Beer Box & 5 Empty Bottles; Its Miller Time Neon Bar Light 34"T; J&B JET Scotch Whiskey Bottle & Display; Jack Daniels Whiskey Tin Bar Sign 21"; Jagermeister 6pc Shot Glass Set NIB; Jameson Black Barrel Whiskey Tin Bar Sign 20"; Jameson Irish Whiskey Tin Bar Sign 23 1/2"; Jose Cuervo Tequila Large Glass Bottle 17"; Miller Beer Battery Op Wall Clock As Is 20"; Miller Genuine Draft Neon Beer Sign Works; Old Milwaukee Beer Lighted Sign 22" x 9" Works; Oso Negro Large Glass Jug 14"T; Pabst Beer Neon Sign Needs Cleaning; Pair of Keg Tap/Spouts; Sailor Jerry Rum Tin Bar Sign; Schlitz Lighted Bar Beer Sign 19.5"; Schlitz Lighted Bar Sign 19"x8" Working; Schlitz Lighted Pub Clock 13"x15"; Seagrams Whiskey Large Glass Bottle 25"; Smirnoff Vodka Extra Large Glass Bottle 18"; Storz Brewing Lighted Bar Sign Working; Teremana Tequila Wooden Bar Sign 23 1/2"; Vat 69 Scotch Whiskey Extra Large Bottle 23" Tall; Vintage Heilemans Old Style Lager Beer Box; Vintage Old Style Lager Beer Box; Vintage Strohs Beer Box; Windsor Canadian Whiskey Bar Clock 24"x18"; Windsor Canadian Whiskey Small Wood Sign 15";3
Rubber Bar Drip Mats 23 1/2"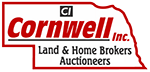 Auctioneers
Tom & Casey Cornwell, Clint Mickey
Dan Muirhead
RogerObermeier
SUBSCRIBE TO OUR TEXT ALERTS

Cornwell, Inc. occasionally sends out text notices of upcoming auctions. If you would like to receive these updates by text please submit your cell phone number.